LUMIPOD is minimal, like the original cell.
This prefabricated housing module, a real cocoon of simplicity, settles in the middle of Nature to welcome city dwellers willing to relax away from the concrete jungle.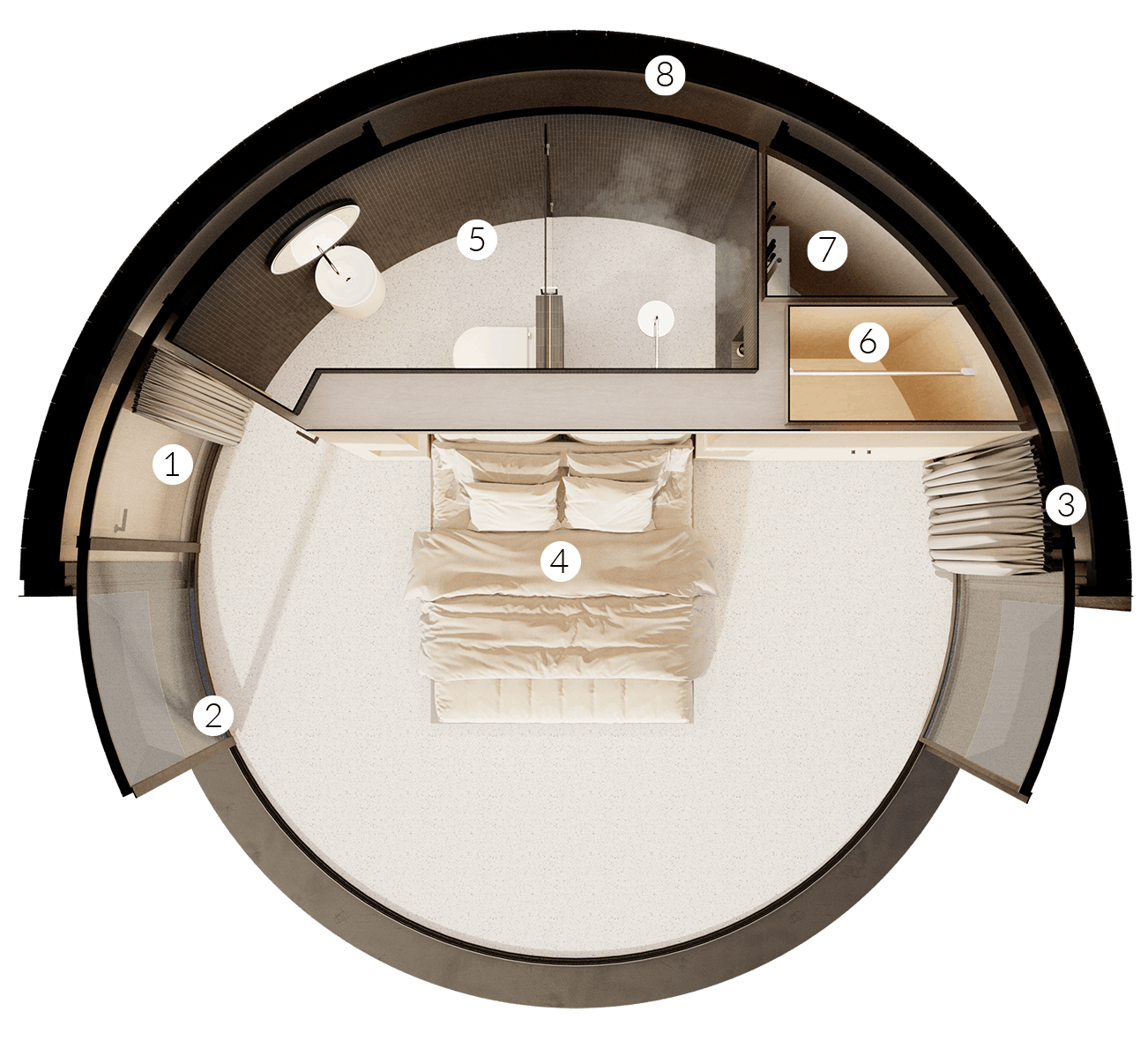 2. LUMICENE curved reversible window
4.12m2 bedroom with panoramic view!
8. Curved wood-frame walls.
BETWEEN INDOORS AND OUTDOORS
LUMIPOD is built around a LUMICENE® window. This new concept uses curved glass in aluminium frames sliding between two rails, allowing the interior space to be occasionally transformed into an outdoor space.
Closed, LUMIPOD is a comfortable cocoon but fully immersed in Nature.
In a single gesture, LUMIPOD eliminates the boundary between interior and exterior for an unforgettable experience.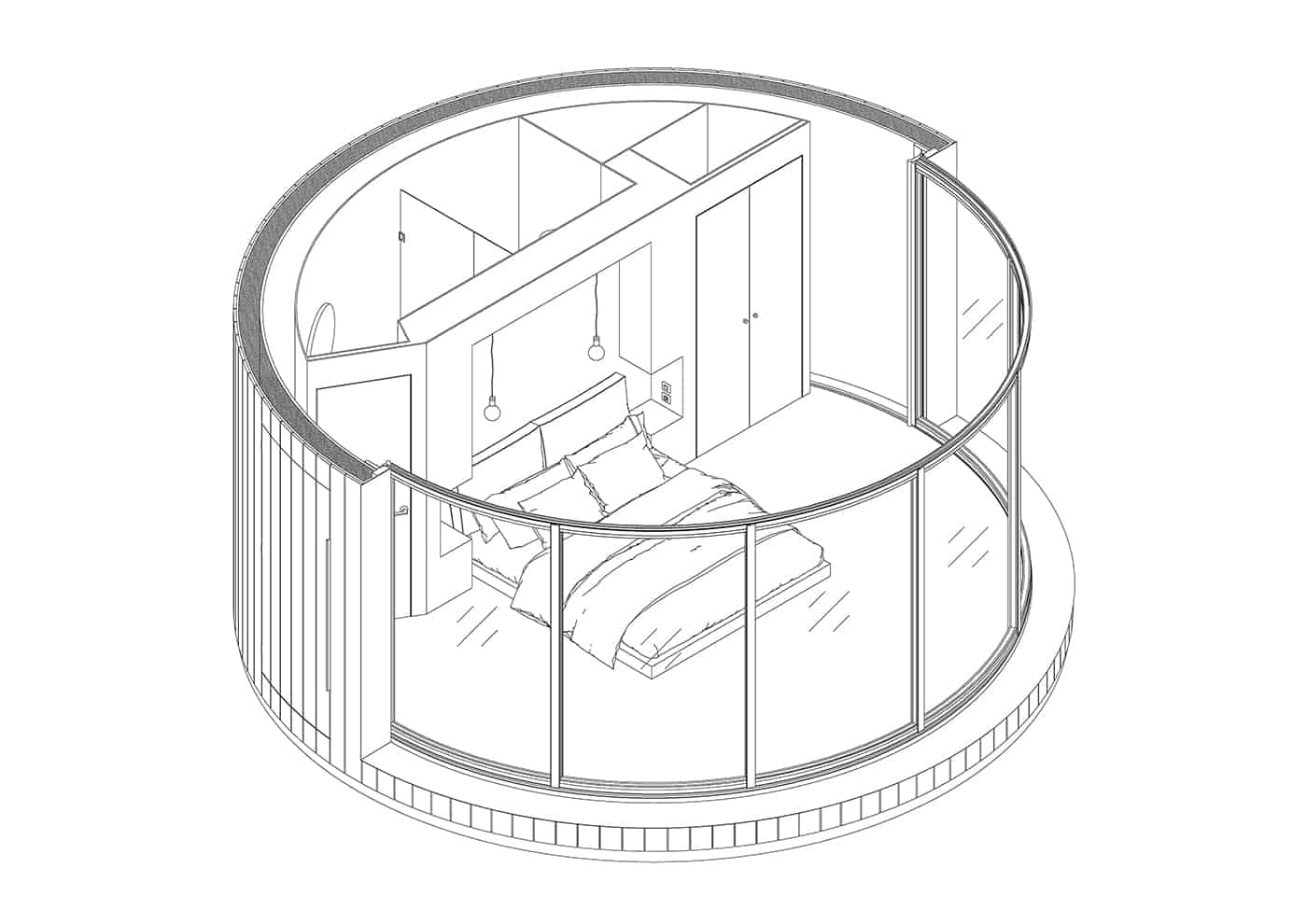 A living and organic habitat, LUMIPOD plays with nature, offering an almost infinite choice of coverings to fit perfectly into its new decor.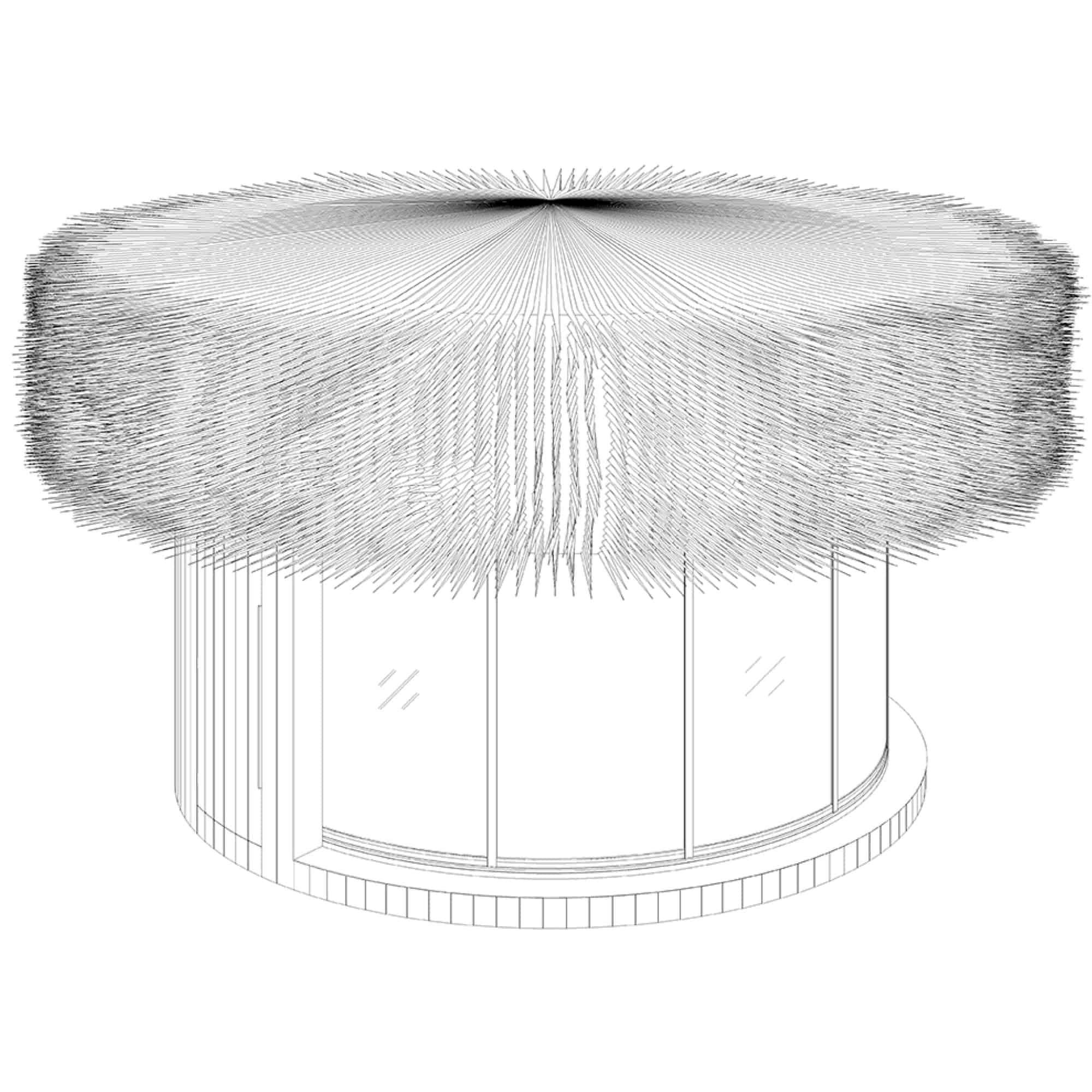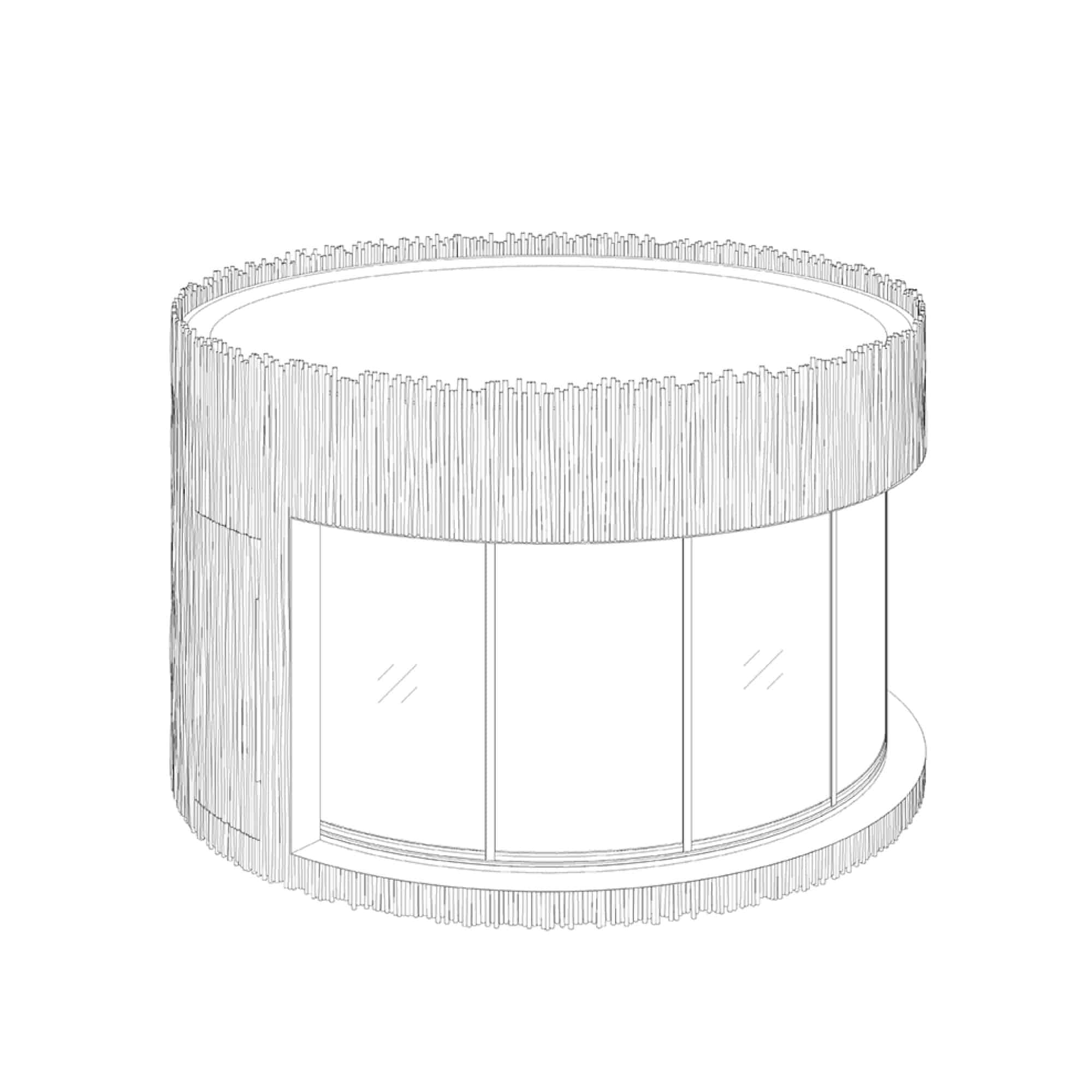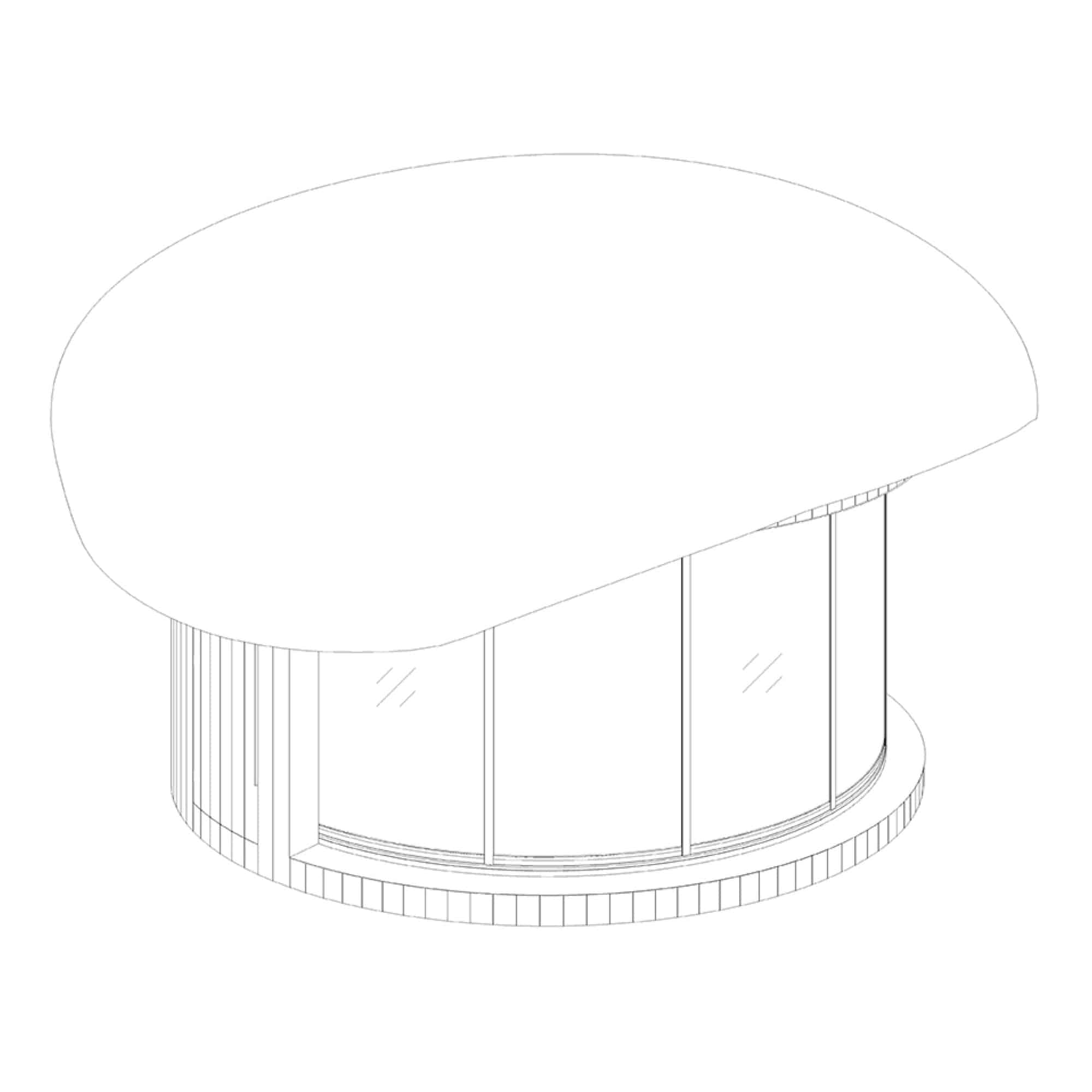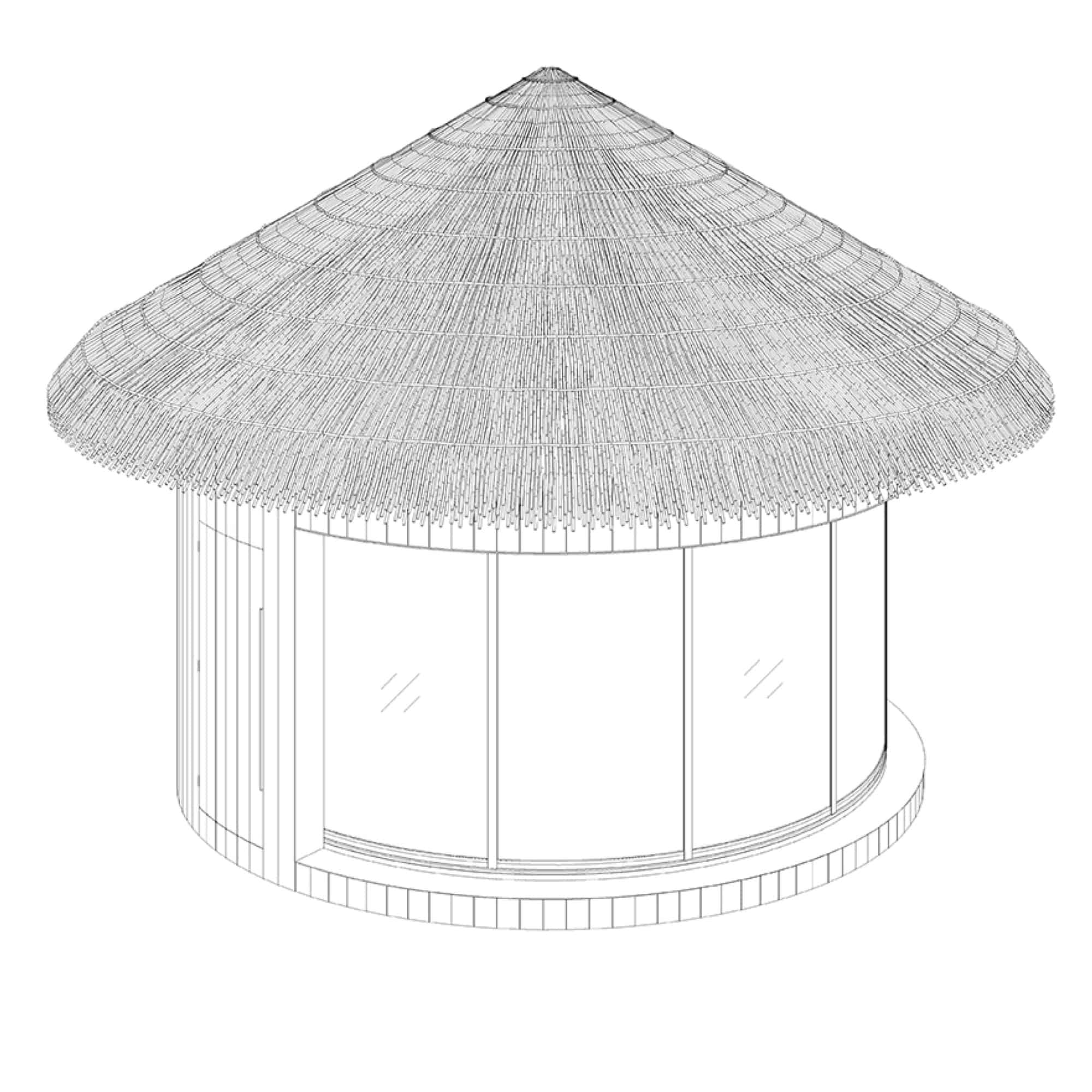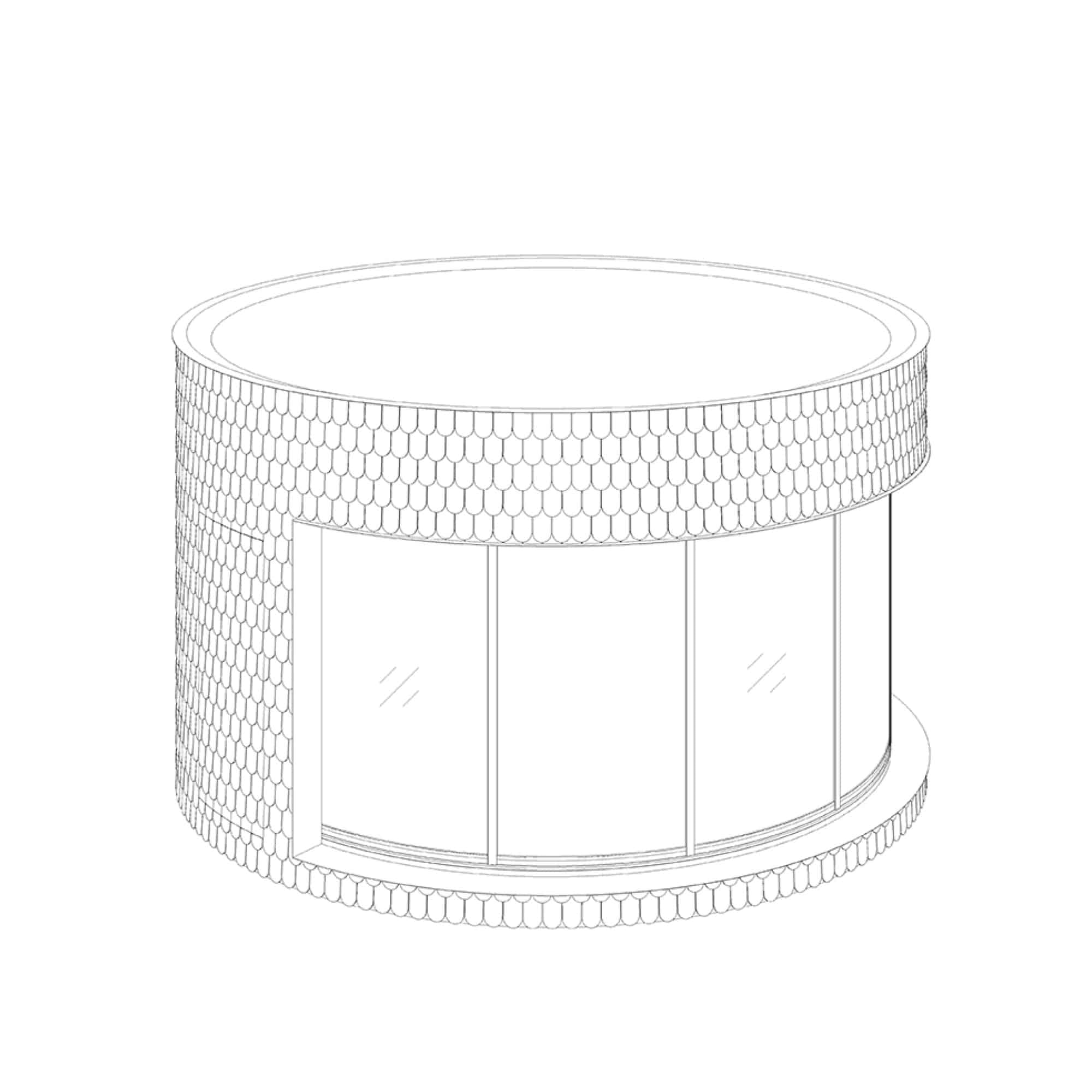 DIMENSIONS
LUMIPOD is 5,45m in diameter and 3,25m high. The usable floor area is about 17m², of which 5.5m² for the bathroom, 11m² for the bedroom and 0.5m² for the wardrobe. The ceiling height is 2.25m. The weight of the module is approximately 4.5 tons.
STRUCTURE
LUMIPOD's structure is made of steel to guarantee the level of rigidity required by the LUMICENE window. It consists of a frame placed on 4 foundation plots; a rear module integrating all the technical equipments and totally manufactured within the factory; 2 front modules – up and down – which are bolted together on the rear module. The curved exterior wall is wood frame and incorporates 15cm of rockwool and a protective rain sheeting on its outer face. The roof and the floor are insulated with 5cm of polystyrene and 20cm of rockwool.
WINDOW
LUMIPOD is equipped with a 5m diameter LUMICENE window made of curved glass. It consists of 6 pannels sliding on a circular rail, 3 by 3. The aluminum profiles are with thermal breaks and all RAL colors are available. By default the LUMICENE window comes with a 6FE(20)6 (Ug 1.1 W / m²K) curved double glazing. Other options are available depending on weather conditions, including triple glazing 6FE(12)4(12)6. The carpentry is equipped with 2 locks at each end. LUMICENE is entirely manufactured by the Saint-Gobain Group in a factory based in Chambery, France.
INTERIOR DESIGN
LUMIPOD has been designed as a 4* hotel room … in the middle of nature. It is equipped with a curved entry door. A wardrobe is positioned to the right of the bed. The bed is like suspended, and integrated in a shallow niche. A curved rod allows to accommodate blackout curtains in front of the entire glass surface. Finally the bathroom is equipped with a sink, a toilet and a shower closed by a glass wall.
INTERIOR FINISHING 
For LUMIPOD, we wanted simple and rough materials, for a perfect harmony with nature. It is by default equipped with a burned wood exterior cladding. Inside the unit different finishing options are possible. Wooden floor in the bedroom. Plywood cladding for walls and ceiling. Curved wall in Corian in the bathroom or tiles (in which case the tiles we be laid once the LUMIPOD is assembled on site). But the LUMIPOD is customizable inside and outside with numerous types of finishing materials so that can be tailored to the requirements of the end-user.
HEATING AND COOLING
LUMIPOD must in its default version be connected to electricity, water and wastewater networks. It is equipped with a Mitsubishi MSZ-SF42VE 4.2kW reversible air conditioning system ​​to manage both heating and cooling requirements; an instantaneous water heater; and an electrical panel. All these equipments are located in the technical room positioned behind the wardrobe.
FOUNDATIONS
LUMIPOD's structure is positioned on 4 'light' foundations. Depending on the type of soil different options can be looked at. By default screw piles are used. They minimize the impact on the installation site.
MANUFACTURING
LUMIPOD is entirely manufactured in Lyon, France. The manufacturing lead time of a LUMIPOD is 2 to 4 months depending on the level of finishing required.
TRANSPORT AND INSTALLATION
LUMIPOD has been designed to be compatible with both road and maritime transport. Its different modules can be put into a container to travel. The installation is coordinated by our teams, sometimes relying on local companies depending on the installation site. A LUMIPOD is assembled within 2 days (except foundations and networks which will have been prepared upstream).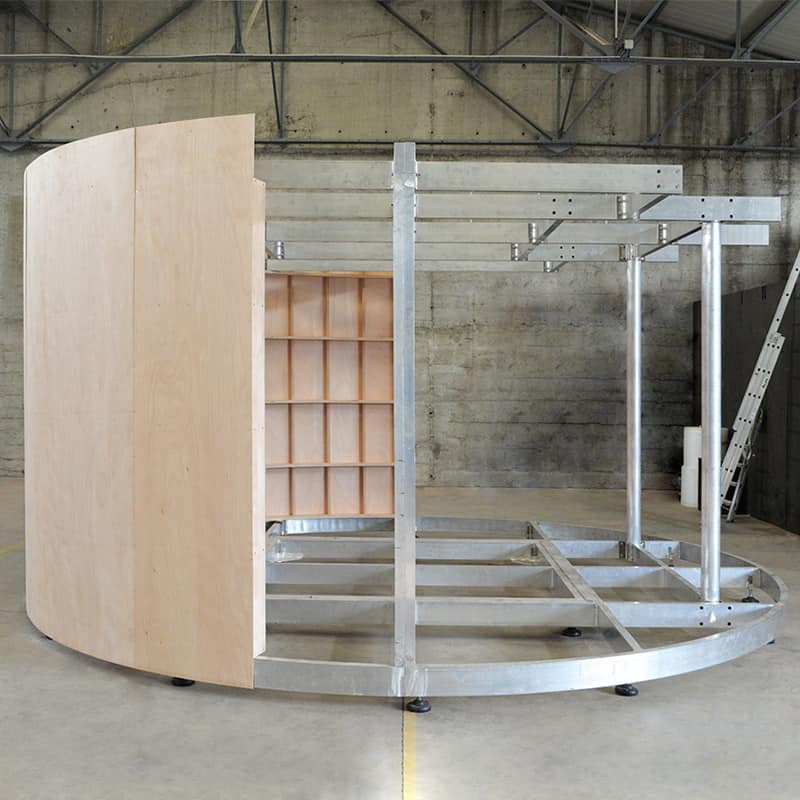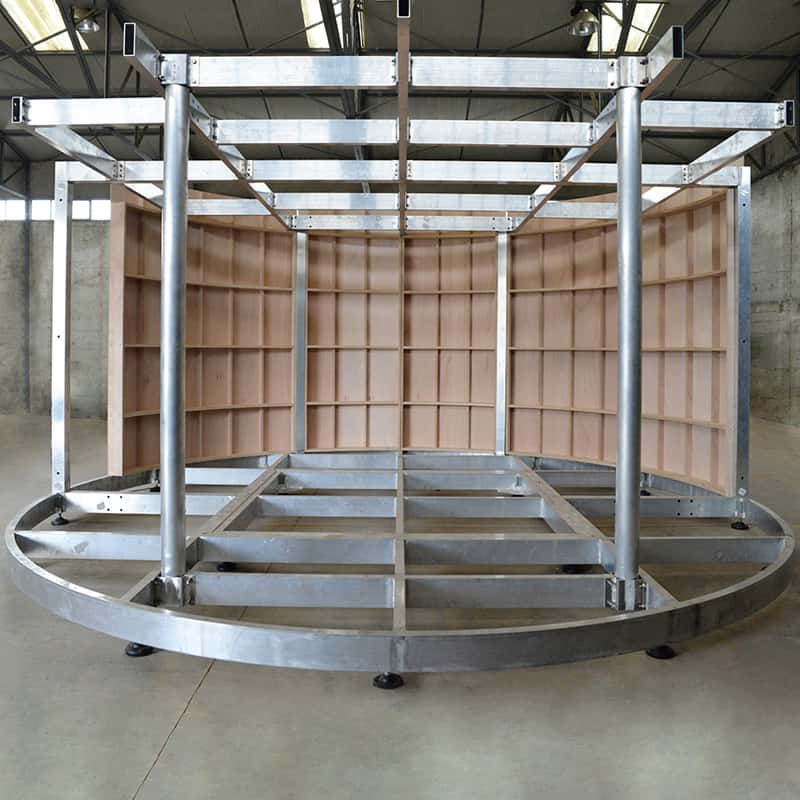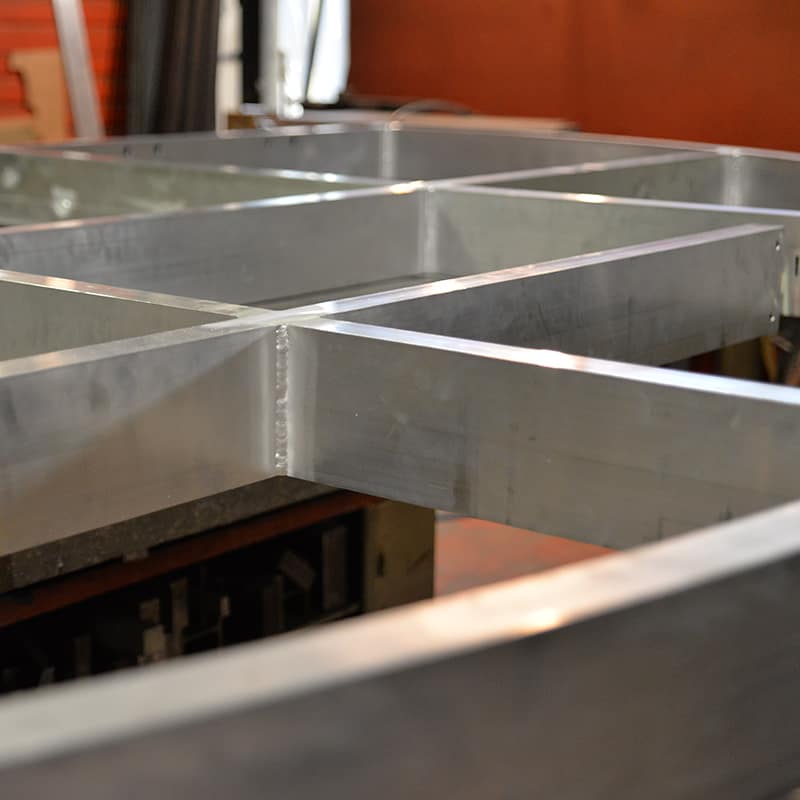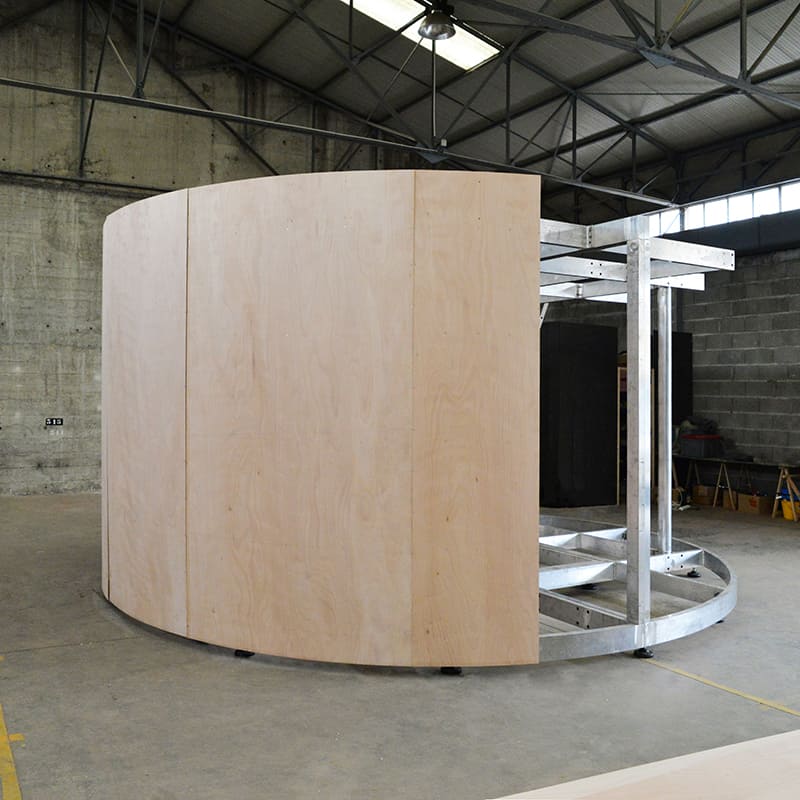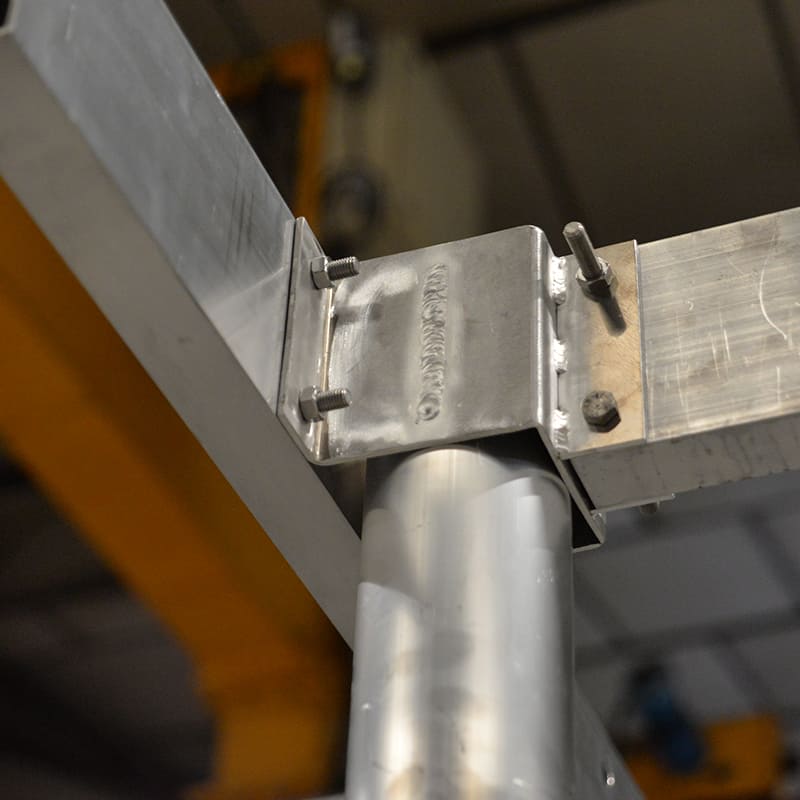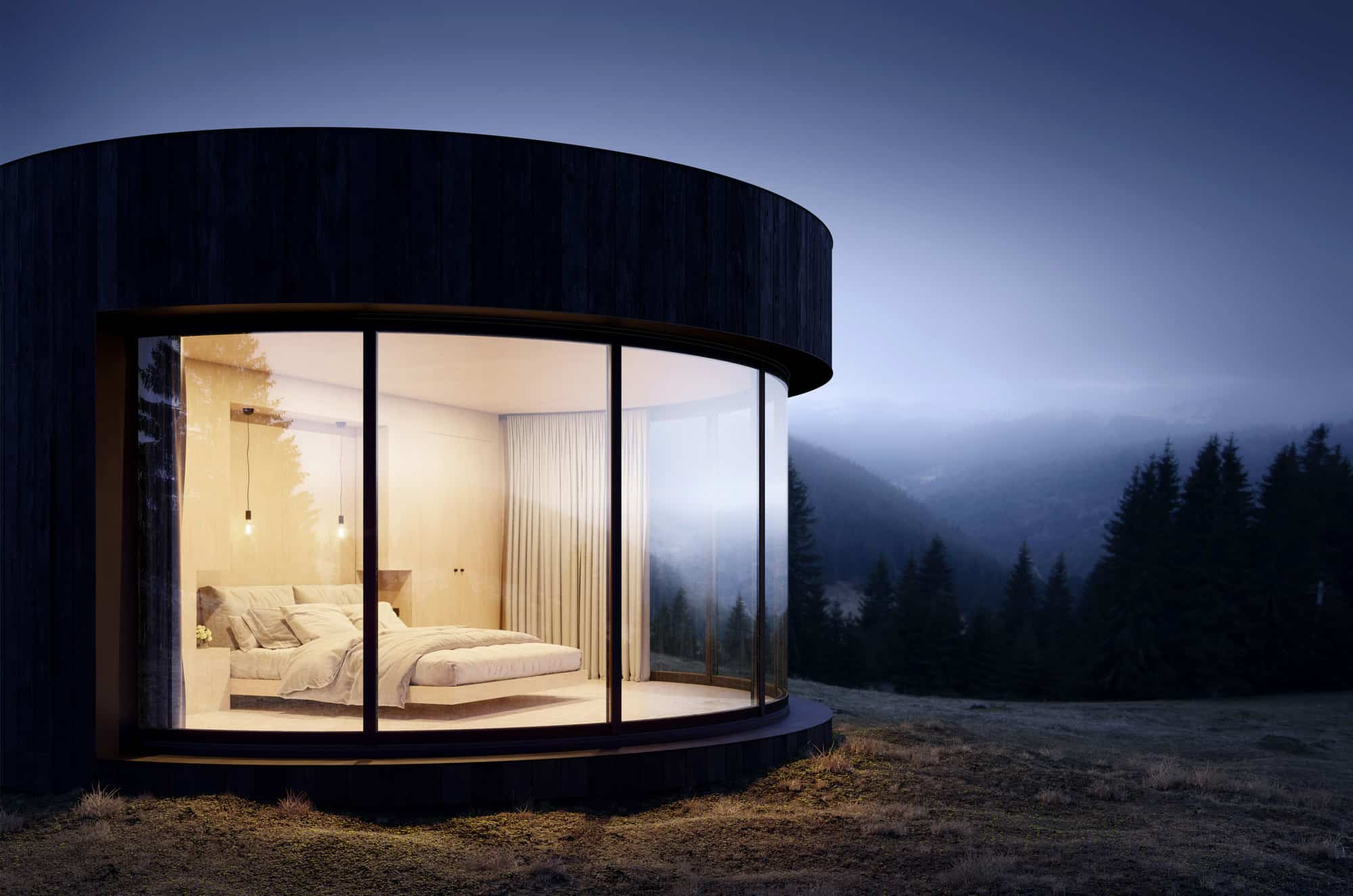 YOU HAVE THE PERFECT SPOT ?
Contact us to know more on how installing your LUMIPOD.